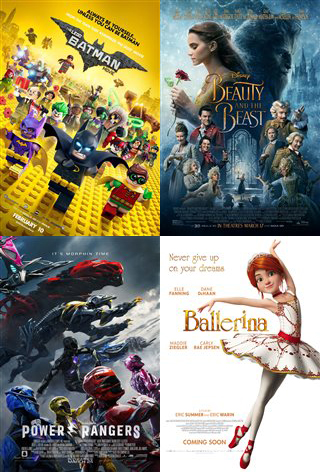 With March Break just around the corner, here's a rundown on which kid-friendly films are going to be in theaters to help keep the kids busy while keeping the adults entertained as well!
A Dog's Purpose: Based on the bestselling novel by W. Bruce Cameron and starring Dennis Quaid, A Dog's Purpose is a heartwarming story of one dog's impact on the lives of his owners through each of his reincarnations.
The film is a tearjerker to be sure, but by gently touching on key themes of life, death, love and family in such a heartfelt way, it is sure to leave a positive impact on any viewer, young or old. Bonus if you're a dog lover! Watch the trailer by clicking here.
Tribute.ca users have given it a rating of 3.6 out of 5 stars. The movie is in wide release. Check for showtimes here.
The LEGO Batman Movie: When the evil Joker (Zach Galifianakis) joins forces with other baddies, LEGO Batman (voiced by Will Arnett) must learn teamwork trumps taking tasks on alone if he is going to defeat his nemesis in The LEGO Batman Movie. 
Full of high-flying action and laughs, the animated film has been immensely popular among kids and adults alike. Check out the trailer here to see why!
For delivering family fun at the movies, Tribute.ca users have given it a solid 4.6 out of 5 stars. With a wide release, you can find your theater's showtimes here.
Ballerina: With the help of a friend (Dane DeHaan), a young orphan girl (Elle Fanning) with dreams of becoming a ballerina runs away to Paris to fulfill her wish, but finds it's going to take a lot of hard work and perseverance to get the coveted lead in her school's ballet recital.
Ballerina teaches viewers that with hard work, dedication, passion and the support of friends and loved ones, any dream can be made a reality. You can see the film's trailer by clicking here.
The animated film currently has a 5-star rating from Tribute.ca users and is playing across Canada. You can click here for showtimes.
Beauty and the Beast: Based on the 1991 Disney cartoon classic, the highly-anticipated live-action version of Beauty and the Beast tells the tale of Belle (Emma Watson), taken captive by the enigmatic and short-tempered Beast (Dan Stevens). After learning that the Beast is not a real monster, but just a misunderstood man subjected to a curse, a close bond between the two blossoms as Belle struggles to save the Beast from the terrified townsfolk.
Disney is always a safe bet, and this new iteration of the classic "tale as old as time" is sure to be a hit with both younger and older generations. Click here to see the trailer.
The film releases wide in theaters on March 17th.
Power Rangers: Go go Power Rangers! Based on the long-running kids program of the same name, Power Rangers tells the story of a group of normal teenagers (Dacre Montgomery, RJ Cyler, Ludi Lin, Naomi Scott, Becky G) who after stumbling upon a mysterious spaceship and magical coins find they have gained amazing strength and cool powers! They are mentored by the intelligent Zordon (voiced by Bryan Cranston) and learn it is up to them to save their town from the evil alien Rita Repulsa (Elizabeth Banks).
As a popular kids show that has spanned multiple generations, this new take on the Mighty Morphin Power Rangers is sure to appeal to the kids who currently watch the show and the adults who did when they were just kids themselves (and who maybe still do!). You can see the trailer for the film by clicking here. Power Rangers releases March 24th.
What movies do you plan on seeing this March Break? Let us know by commenting below! ~Alexa Caruso