Rogue One: A Star Wars Story leads this week's new trailers
By Tribute on December 8, 2016 | Leave a Comment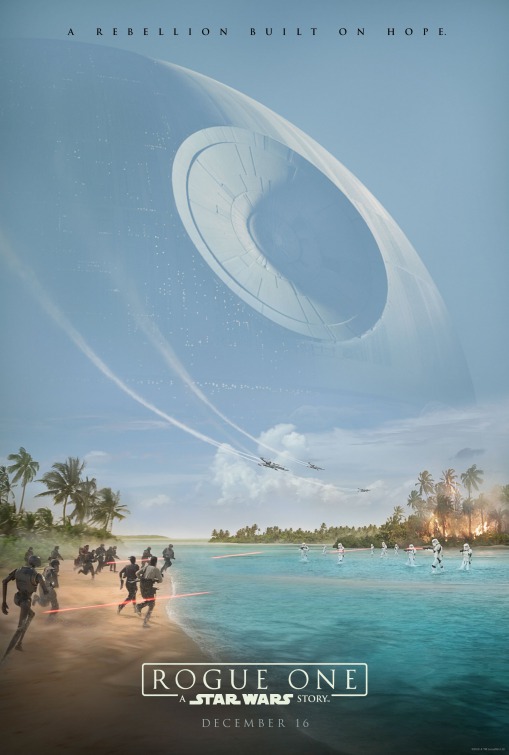 With Rogue One: A Star Wars Story releasing yet another taste of what's to come in the form of its epic "Trust" trailer, fans are surely salivating in anticipation for the film's release next week (Dec.16).
The action-packed teaser trailers for Guardians of the Galaxy Vol. 2 and Transformers: The Last Knight both topped 100 million views online within two days of their release, so it's safe to say moviegoers are also looking forward to these fantasy-filled sequels.
While fans were freaking out over the adorable baby Groot, the second trailer for Fifty Shades Darker set the internet ablaze for an entirely different reason, with the follow up to Christian and Ana's steamy love affair leaving millions of viewers all hot and bothered.
On a mildly less erotic note, Tom Cruise reboots the Mummy franchise in the premiere trailer for The Mummy, and Tom Hanks and Emma Watson bring a bestselling story to the big screen in the first official trailer for The Circle. 
Check out all the latest trailers below:
1. Rogue One: A Star Wars Story
2. Guardians of the Galaxy Vol. 2
3. Transformers: The Last Knight
4. Fifty Shades Darker
5. The Mummy
6. The Circle
7. Baywatch
8. Fist Fight
9. The Shack
10. Office Christmas Party
Rogue One: A Star Wars Story- When Jyn Erso (Felicity Jones) is arrested by the Rebel Alliance, she is asked by Mon Mothma (Genevieve O'Reilly) to retrieve information about the Death Star — a nearly constructed weapon with the power to destroy an entire planet. If the Death Star's construction is completed, the Empire will become unstoppable. It's now up to Jyn, Cassian Andor (Diego Luna), Bodhi Rook (Riz Ahmed), and their pragmatic droid K-2SO (Alan Tudyk) to form the Rogue One squadron and help bring peace to the galaxy by stealing a technical readout of the Death Star.

Guardians of the Galaxy Vol. 2- Picking up after the events of the first Guardians of the Galaxy, the whole gang — Peter Quill aka Star-Lord (Chris Pratt), Gamora (Zoe Saldana), Groot (Vin Diesel), and Rocket (Bradley Cooper) — returns, but this time it's to uncover the mystery of Peter's true parentage.

Transformers: The Last Knight- Directed by Michael Bay, this latest Transformers sequel will take place in the midst of a war between Transformers and humans, and Optimus Prime may just be fighting on the wrong side. The film brings back Mark Wahlberg as car mechanic Cade Yeager and Josh Duhamel as Lt. Colonel William Lennox, and introduces Anthony Hopkins to the franchise.

Fifty Shades Darker- After leaving Christian (Jamie Dornan), Ana (Dakota Johnson) gets a  job at a publishing company in an attempt to start fresh, although she's hurting badly. Wanting Ana back in his life, Christian convinces her to give him another chance. After agreeing to her demands for a new arrangement, they begin to build trust and find stability. However, certain women from Christian's past, including an older woman (Kim Basinger) who seduced him as a teenager, begin to affect their relationship.

The Mummy-  This modern adaptation follows an ancient queen (Sofia Boutella), thought to be safely entombed in a crypt deep beneath the harsh desert, who is awakened in contemporary times and unleashes a fury that defies human understanding and an evil that has been brewing over millennia. Her terror knows no bounds, crossing country lines throughout the Middle East and even impacting those in London. While in England, she encounters an ex-soldier (Tom Cruise), who's been enlisted to help end her cruel crusade.

The Circle- A young woman (Emma Watson) who joins the world's most powerful internet company finds her life beginning to unravel after the company's founder (Tom Hanks) pressures her to step in front of the camera. Based on the bestselling novel by Dave Eggers.

Baywatch- Head lifeguard Mitch Buchanan (Dwayne Johnson) butts heads with a new recruit, former Olympian Matt Brody (Zac Efron). Together, they work to uncover a criminal plot, led by Victoria Leeds (Priyanka Chopra), who's threatening the future of the Bay. Baywatch is based on the hit TV series of the same name, which ran from 1989 to 2000. Former stars David Hasselhoff and Pamela Anderson will be making cameos.

Fist Fight- When a mild-mannered English teacher (Charlie Day) is accused by his much tougher colleague (Ice Cube) of trying to get him fired, he is challenged to an after-school fist fight in the comedy Fist Fight. Directed by Richie Keen, the film also features Christina Hendricks and Tracy Morgan.

The Shack- When Mack Philips (Sam Worthington) takes three of his children on a camping trip, his youngest daughter, Missy, goes missing in the drama The Shack. Evidence discovered in an abandoned shack leads authorities to believe she was kidnapped and murdered by a serial killer, although her body isn't found. Four years later, Mack receives a note in his mailbox asking him to return to the shack. Against his better judgment, he accepts the invitation and finds something there that will change his life forever.

Office Christmas Party- When hard-partying Chicago bank manager Clay's (T.J. Miller) CEO sister Carol (Jennifer Aniston) threatens to shut down his branch, he decides to throw an epic Christmas party against her wishes in order to secure a huge client and save the branch in the comedy Office Christmas Party. He sets up the party with help from his co-workers, including Mary (Kate McKinnon), Tracey (Olivia Munn), and Josh (Jason Bateman), but the party turns out to be a lot crazier than anyone had anticipated.

---
---
---
Similar Articles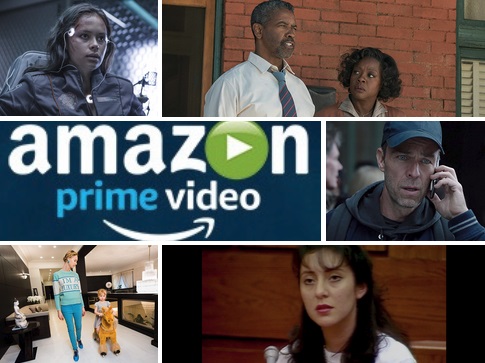 January 30, 2019 | Leave a Comment
Here's what's coming to Amazon Prime Video in February. From original series to classics like Baywatch, there's something for everyone. Click for more.
---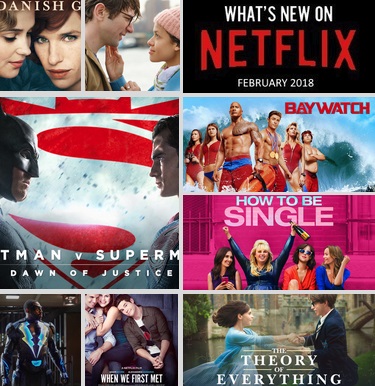 February 1, 2018 | 1 Comment
This February there are many new originals, whether you're a superhero fan or a thriller buff. There are also Valentine's Day rom-coms to Oscar favorites.
---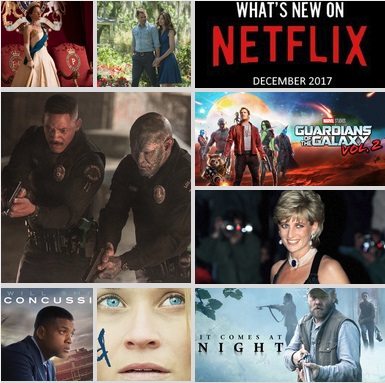 November 30, 2017 | 1 Comment
One way to enjoy the holidays with family and friends is to binge on some of Netflix holiday favorites along with a few highly anticipated originals. Check out what's new!
---