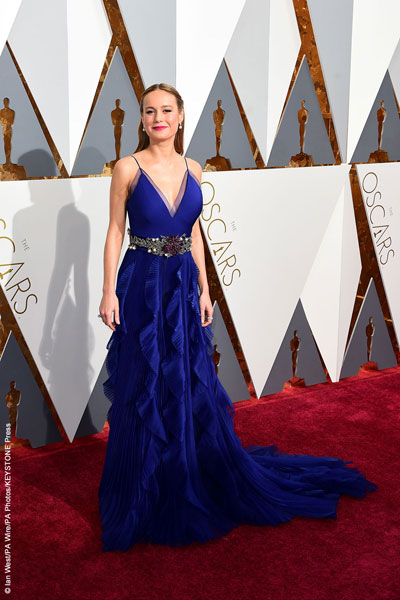 The 88th Academy Awards got off to a great start as host Chris Rock addressed the controversy about the absence of black nominees. He joked that in 88 years, the "whole no black nominee thing has happened at least 71 other times." He reasoned that in earlier years, blacks didn't protest because they had "real things to protest at the time." He also joked that this year, things were going to be a little different, saying, "In the 'In Memoriam' package, it's just going to be black people that was shot by the cops on their way to the movies."
There were inventive additions this year, such as text boxes with information about each presenter as they appeared onscreen. Also, as soon as each winner was announced, a long list of people they wanted to thank scrolled across the screen. The music as presenters walked on stage and winners walked off stage was from Oscar-nominated movies through the years — a nice touch.
The biggest surprise of the night came at the very end, when Spotlight won Best Picture. Other surprises were Mark Rylance winning a much-deserved Best Supporting Actor for his wonderful performance in Bridge of Spies — Sylvester Stallone was expected to win — and Alicia Vikander winning Best Supporting Actress for her work in The Danish Girl.
Mad Max: Fury Road won the most awards, with six Oscars in craft categories. The Revenant was closest with three, including Best Director and front runner in the Best Actor category, Leonardo DiCaprio. Also as expected, Best Actress went to Brie Larson for her amazing performance in the indie drama Room.
Full list of Oscar winners:
Best Picture
Spotlight
Best Actor
Leonardo DiCaprio, The Revenant
Best Actress
Brie Larson, Room
Best Supporting Actor
Mark Rylance, Bridge of Spies
Best Supporting Actress
Alicia Vikander, The Danish Girl
Best Director
Alejandro González Iñárritu, The Revenant
Best Animated Feature Film
Inside Out, Pete Docter and Jonas Rivera
Best Cinematography
The Revenant, Emmanuel Lubezki
Best Costume Design
Mad Max: Fury Road, Jenny Beavan
Best Documentary Feature
Amy, Asif Kapadia and James Gay-Rees
Best Documentary Short Subject
A Girl in the River: The Price of Forgiveness, Sharmeen Obaid-Chinoy
Best Visual Effects
Ex Machina, Andrew Whitehurst, Paul Norris, Mark Ardington and Sara Bennett
Best Music (Original Score)
The Hateful Eight, Ennio Morricone
Best Music (Original Song)
"Writing's on the Wall," Spectre, Music and Lyric by Sam Smith, Jimmy Napes
Best Animated Short Film
Bear Story, Gabriel Osorio and Pato Escala
Best Live Action Short Film
Stutterer, Benjamin Cleary and Serena Armitage
Best Sound Editing
Mad Max: Fury Road, Mark Mangini and David White
Best Sound Mixing
Mad Max: Fury Road, Ben Osmo, Chris Jenkins and Gregg Rudloff
Best Writing (Adapted Screenplay)
The Big Short, Charles Randolph and Adam McKay
Best Writing (Original Screenplay)
Spotlight, Tom McCarthy and Josh Singer
Best Production Design
Mad Max: Fury Road, Colin Gibson and Lisa Thompson
Best Film Editing
Mad Max: Fury Road, Margaret Sixel
Best Foreign Language Film
Son of Saul, Hungary
Best Makeup and Hairstyling
Mad Max: Fury Road, Lesley Vanderwalt, Damian Martin and Elka Wardega