Here's what's new on Netflix Canada in February 2020
By Marriska Fernandes on January 31, 2020 | Leave a Comment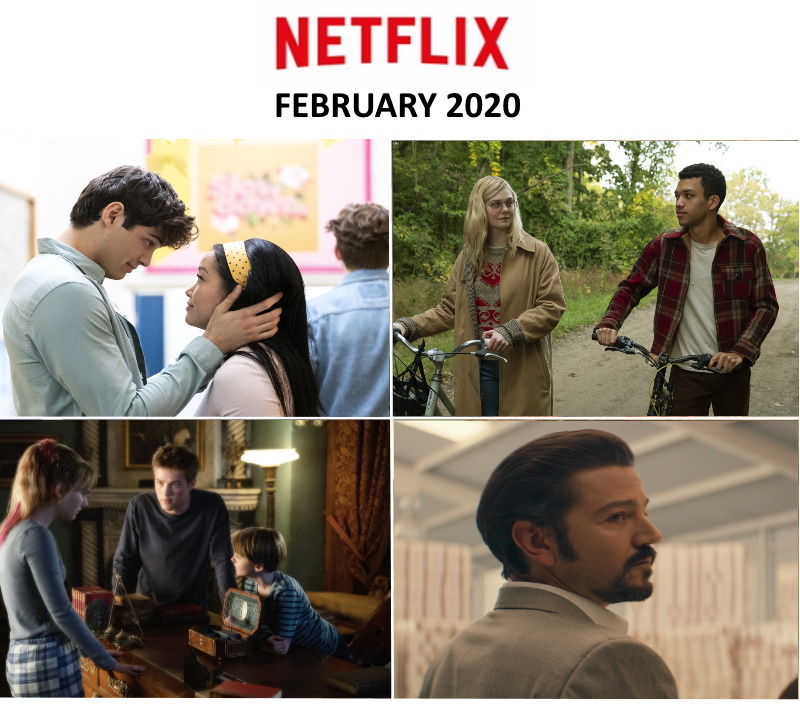 The month of romance is almost here. While couples can get cozy with cheesy movies and rom-coms for Valentine's Day, others can enjoy Galentine's Day with their squad for some much-needed girl time. Either way, Netflix's new month of love promises to satisfy your desire for all things movies and television.
Originals: Love
To All the Boys: P.S. I Still Love You (Feb. 12): If you were among those who enjoyed To All the Boys I Loved Before, you're in for another cute young love tale. It's a new year and Lara Jean (Lana Condor) and Peter (Noah Centineo) are no longer pretending to be a couple — they ARE a couple. But when John Ambrose (Jordan Fisher), another recipient of one of Lara Jean's old love letters, enters her life again, she's confronted with her first real dilemma: Can a girl be in love with two boys at once? Click to read our interviews with Noah Centineo, Lana Condor and author Jenny Han.
Original film All The Bright Places (Feb. 28), based on the internationally best-selling novel by Jennifer Niven, tells the story of Violet Markey (Elle Fanning) and Theodore Finch (Justice Smith), who meet and change each other's lives forever. This compelling drama provides a refreshing and human take on the experience of mental illness, its impact on relationships, as well as the beauty and lasting impact of young love. Ah, young love.
Love is Blind: Is it? Or isn't it? In this three-week event, singles who want to be loved for who they are, rather than what they look like, have signed up for a less conventional approach to modern dating, in which they hope to meet the person they want to spend the rest of their lives with… without ever having seen them. With no distractions from the outside world, the singles talk to a stream of potential love interests and when a meaningful connection is made, they propose and then lay their eyes on their fiancé for the first time, before they tie the knot. Hosted by Nick and Vanessa Lachey, this addictive 10-part series will uncover whether looks or age do matter, or if love really is blind.
Originals: Drama
If a love-fest isn't of much interest this month, maybe you'd like the drama, chaos and conflict in Narcos: Mexico Season 2. Félix must cope with the U.S. and the consequences of his actions against the DEA while facing discontent within his organization.
In Locke & Key, after their father is murdered under mysterious circumstances, the three Locke siblings and their mother move into their ancestral home, where the discover magical keys that may be connected to their father's death. As the children explore the different keys and their unique powers, a demon awakens who wants the keys. It's an adaptation of the best-selling comic book series by Joe Hill and Gabriel Rodriguez for IDW comics.
All the Romance
Tom Hanks and Meg Ryan are #couplegoals in You've Got Mail. Helmed by Nora Ephron, the movies is a New York-based romantic comedy, and was one of the most successful films of 1998.
The multi-cast rom-com, Crazy, Stupid, Love, offers different couples and explores their love stories. It stars Steve Carrell, Julianne Moore, Ryan Gosling and Emma Stone. 'Nuff said.
You're going to need tissues for P.S. I Love You. After the death of her husband Gerry (Gerard Butler), Holly (Hilary Swank) is unable to cope. Soon, she starts getting letters from Gerry, which are delivered in surprising ways, each sending her on a new adventure and each signing off in the same way: "P.S. I love you."
A goofy, cute comedy to watch is Along Came Polly, starring Ben Stiller and Jennifer Aniston. Watch Owen Wilson and Vince Vaughn play divorce mediators who spend their weekends crashing weddings in the rom-com Wedding Crashers. Bridget Jones: The Edge of Reason will satisfy your appetite for chick flicks as Renée Zellweger plays a 30-something, self-doubting, self-analyzing, career-minded, calorie-counting London singleton who has found romantic bliss — and then some.
See the complete list of what's new this February and scroll below to see what's leaving as well. ~Marriska Fernandes
Feb. 1
Changeling
Crazy, Stupid, Love
Darkest Hour
Frost/Nixon
Gone with the Wind
Munich
Nights in Rodanthe
P.S. I Love You
Red Sparrow
Saint Seiya: Season 6
The Adventures of Tintin
Wedding Crashers
You've Got Mail
Feb. 3
Sordo — Netflix Film
Team Kaylie: Part 3 — Netflix Family
Feb. 4
Tom Papa: You're Doing Great! — Netflix Original
Feb. 5
8 Mile
Along Came Polly
Bridget Jones: The Edge of Reason
La boda de la abuela — Netflix Film
The Land Before Time
The Pharmacist — Netflix Documentary
Public Enemies
Feb. 6
Cagaster of an Insect Cage — Netflix Anime
The Flash: Season 6 (Episode 10)
Feb. 7
Dragons: Rescue Riders: Season 2 — Netflix Family
Horse Girl — Netflix Film
Locke & Key — Netflix Original
My Holo Love — Netflix Original
Who Killed Malcolm X? — Netflix Documentary
Feb. 8
The Coldest Game –– Netflix Film
Feb. 9
Better Call Saul: Season 4
Captain Underpants Epic Choice-o-Rama — Netflix Family
Polaroid
Feb. 11
CAMINO A ROMA — Netflix Documentary
Feb. 12
13 Hours: The Secret Soldiers of Benghazi
To All the Boys: P.S. I Still Love You — Netflix Film
Feb. 13
Dragon Quest Your Story — Netflix Anime
The Flash: Season 6 (Episode 11)
Love is Blind — Netflix Original
Narcos: Mexico: Season 2 — Netflix Original
Feb. 14
Cable Girls: Final Season — Netflix Original
Isi & Ossi — Netflix Film
A Shaun the Sheep Movie: Farmageddon — Netflix Original
Feb. 17
The Expanding Universe of Ashley Garcia — Netflix Original
Feb. 19
Chef Show: Volume 3 — Netflix Original
Vikings: Season 3
Feb. 20
The Flash: Season 6 (Episode 12)
Spectros — Netflix Original

Feb. 21
Babies — Netflix Documentary
Gentefied — Netflix Original
Glitch Techs — Netflix Family
Puerta 7 — Netflix Original
System Crasher — Netflix Film
Feb. 26
Arrival
I Am Not Okay With This — Netflix Original
Feb. 27
Altered Carbon: Season 2 — Netflix Original
The Flash: Season 6 (Episode 13)
Followers — Netflix Original
Happy!: Season 2
Pokémon: Mewtwo Strikes Back—Evolution — Netflix Family
Feb. 28
All The Bright Places — Netflix Film
Babylon Berlin: Season 3 — Netflix Original
Formula 1: Drive to Survive: Season 2 — Netflix Original
Jeopardy!: Celebrate Alex Collection
Jeopardy!: Cindy Stowell Collection
Jeopardy!: Seth Wilson Collection
La trinchera infinita — Netflix Film
Queen Sono — Netflix Original
Restaurants on the Edge — Netflix Original
Unstoppable — Netflix Original
Last Call:
Feb. 1
The Mindy Project: Seasons 1-6
Feb. 14
Mean Girls
Feb. 19
Bates Motel: Season 1-5
Feb. 25
Blade Runner 2049
Feb. 28
Anchorman: The Legend of Ron Burgundy
---
---
---
Similar Articles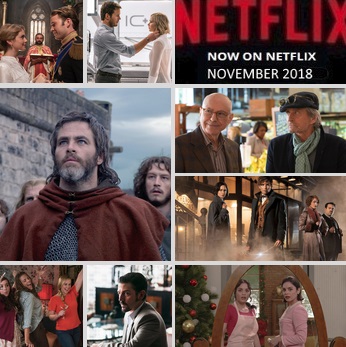 October 30, 2018 | 3 Comments
Netflix brings an exciting palette of originals as well as popular films that will keep you occupied all November long. Check out your next Netflix obsession!
---